The Floating Solar PV Winning Formula
What makes an ideal site for floating solar PV
A study recently cited the potential capacity of floating solar power generation to be around 9,4 TWh per year across more than 114,000 reservoirs around the world – positive reading for this promising and growing technology.
Floating solar is known for its numerous advantages over other solar PV application types – namely avoiding land use conflict, increasing panel efficiency and reducing evaporation.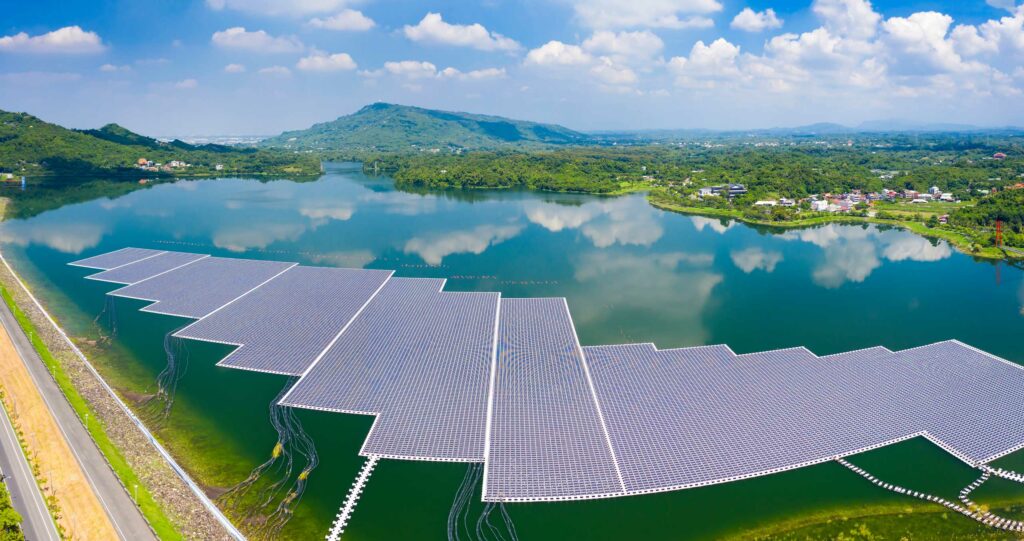 That being said, the success and commercial feasibility of a floating solar PV project depends heavily on the suitability of the site on which it is built. Correct site selection is not only crucial to maximise energy yield, but also to determine both the development and operational suitability of a site for floating solar assets. The appropriate site coupled with competent technical design, is key to mitigating future risk to infrastructure. Thereby reducing unforeseen costs in construction, operations & maintenance, and common failures in mooring, float and electrical components.
What does a typical site look like?
Typical sites include agricultural or other reservoirs, quarries, lagoons and coastal locations.
But what are the pros and cons for each: 
Agricultural reservoirs or quarries have lower environmental restrictions, lower environmental loads, but a high flood risk
Dammed reservoirs have large surface areas and electrical infrastructure already in place for grid connection, but they have steep bathymetry and harsh environmental loads
Lagoons and nearshore locations benefit from large surface areas, but with the downside of extreme environmental loads, and social and environmental conflicts
Drinking water reservoirs benefit from onsite power usage, but floating solar PV infrastructure can conflict with recreation and there are strict material regulations
With each option offering a mix of pros and cons – how can we distinguish one from the other? 
Successful site selection is a complex procedure that requires in-depth evaluation of a cross-section of technical and environmental criteria. These criteria are key to understanding the local environmental, logistical and technical risks to future assets – the results of which have a direct impact on DEVEX, CAPEX, OPEX and LCOE.
In the event of extreme conditions, sites can be directly excluded from development. Criteria can be broadly defined into three sections: power & electrical, mooring & anchoring, and planning, site & construction.  
So where are you considering developing your floating solar project? 
Innosea combines long-term experience in the development of floating solar with multi-disciplinary engineering expertise to devise a unique approach to site selection. This approach benchmarks risk appetite and portfolio against local geographical risk and site specific risk, as well as assessing potential yield, to determine the optimum location for a project at hand.
R&D partners in the EUHorizon 2020 project TRUST-PV for the development of large-scale floating solar technology, Innosea have supported on solar PV site selections across more than five countries. 
Find out more about Innosea and sister company OWC's expert service in site selection and energy yield analysis.
---
Discuss site selection and floating solar PV development in more detail with Innosea consultants at this year's Seanergy conference, at the ABL Group stand A14.