Meet the Team: Aureliano Schirripa – Principal Consultant PhD, Naval Architect
Across LOC, Longitude, Innosea and JLA, our teams are united by a shared commitment to support clients globally with practical and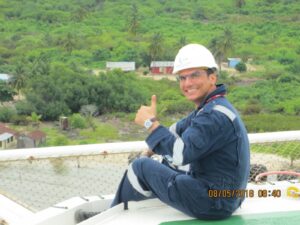 pragmatic solutions, de-risking operations across energy and oceans, and driving energy transition in shipping, renewables and oil and gas markets. You know our teams, but do you know our people?
This week to mark his 10 year anniversary with LOC, meet Aureliano Schirripa – Principal Consultant PhD, Naval Architect, LOC London.
To mark your 10 years at LOC, why don't we start at the beginning – what brought you to LOC?
I wanted to be a ship consultant ever since I started my naval architecture university studies (at my young age ). I was fascinated in reading technical articles on naval issues and how these issues were resolved. I love my job, particularly when I can provide clients with engineering solutions, technical and commercial guidance, support and project management for concept design studies, new vessel constructions, refits and conversions.
To pursue my dreams I have built up my career around the consultant role requirements. Therefore, I worked for ship owners starting from the bottom, and working my way up to being technical manager for a fleet of #22 vessels. Following that, I worked at various shipyards as naval architect for new constructions, ship repairs and refitting, as well as for a Classification society both as field ship surveyor and planning approval.
To further strengthen my technical expertise and professional background in shipping and naval architecture, I completed a 4 year PhD in probabilistic damage for the Ro-Ro passenger ships.
When I was ready to take on to the role of Consultant I was approached by a few marine consultancy companies offering me a job. However, I chose LOC because I felt as a company it offered more opportunite to apply my technical background for clients that need it and at the same time to grow my expertise even more, as well as the opportunity to travel the world.
Tell us a bit about what you specialise in at LOC?
The beauty of LOC is that I interact on a daily basis with colleagues of different technical skills and professional background. At LOC I have
been involved in so many projects that to recall all of them takes a very long. These 10 years at LOC have been very intense – I feel like I have packed more than 20 years' experience considering the work involved and the long working hours spent. I have had very full professional days during the past ten years. Many thanks to my thoughtful and lovely colleagues, with whom together we have accomplished countless projects and received delightful achievements.
During the first 5 years at LOC I worked full-time in dealing with ship casualties causation, salvage and wreck removal… Working closely to this area of the business, I developed an extensive knowledge of marine risk and why casualties happen.
I then decided to transition into another of LOC's core business lines, and began working with Clients on how to avoid casualties – in loss prevention. I consequentially moved into the field of Marine Warranty Survey ('MWS'),  where we manage the risk to avoid casualties taking place.
Your highlights in the past 10 years….
One of my first assignments at LOC was to the Gulf of Mexico (10 year ago), I went there initially for two weeks, but I stayed for 4 months. It 
was a very busy time, during which I met lots of friends and colleagues with whom I am still in touch.
Another long attendance was working on the Costa Concordia wreck removal in Italy. I initially was to work on the project for one month and ended up working on it for almost three years.
I have also worked in Africa, which has given me a unique opportunity to understand this market, specifically in Nigeria, where I have met brilliant and inspiring colleagues and have supported our Lagos office to expand their business with some of our most important Clients, with whom I am still in touch.
Recently I have been in the Middle East and Asia, and have really enjoyed working with Clients and local colleagues in those countries. They really inspire me.
Being at LOC I have travelled to almost every corner of the world and have met many different cultures. This is a really beautiful and unique benefit of my work.
Looking ahead, what are you most looking forward to in the industry in the next 10 years?
My focus is the Client's needs, and when I do my job to reach their goals and/or add value to their business I feel very satisfied.
The 2020 pandemic changed the way we do business, and now more than ever our Clients require us to be more flexible and available 24/7, which has seen us reassess our way of working and networking.
We are an industry which loathes to stand still, and with AqualisBraemar's acquisition of LOC, I am sure that 2021 will show us at our finest. I promise to showcase our talent within the industry we operate, the changes and new directions that we can anticipate, as well as calling out things that generally interest me as a lifer in this industry.
I am very interested in the Mediterranean market and I'm looking on potential ways to expand the ABL market footprint and penetrate in those market areas.
What do you like to do when you are not working
I work hard but play harder. This is the first thing I learnt when I moved into the UK. In my free time I like to spoil myself with good food, good wine, and shopping good clothes and shoes. As well as this, I look after myself by going to the gym, or whatever makes me to stay active and fit .